"We have been able to make a difference for the smallest children"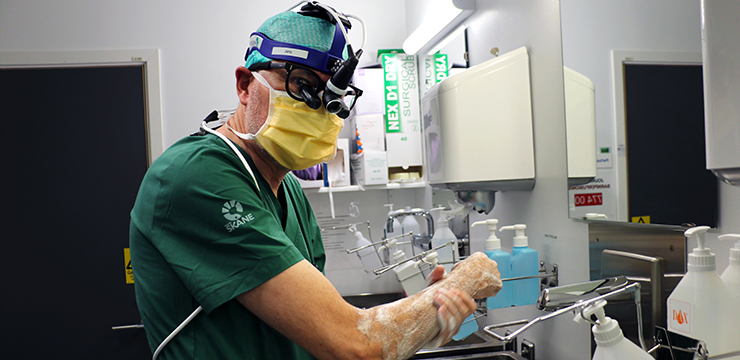 Jens Johansson Ramgren, paediatric heart surgeon at Skåne University Hospital.
Almost 30 years ago, paediatric cardiac surgery was centralized to two centres in Sweden: Skåne University Hospital in Lund and Sahlgrenska University Hospital in Gothenburg. Paediatric heart surgeon Jens Johansson Ramgren has researched how the children who have since been operated on at Skåne University Hospital for a complex heart defect fared. "My conviction is that centralization has been decisive for the good results we have been able to show," he says.
The heart defect is called complete atrioventricular septal defect – a complicated and possibly life-threatening condition which means that the child might require surgery during the first months of life. If it is medically possible, it is best to wait with surgery until the child is between three and six months old, when the child has had time to grow a little bigger and the common valve between the atria and ventricles has become a little more stable.

However, in some cases it is not possible to wait, and the child will need surgery as soon as possible, to have a chance of survival. It is specifically these children that Jens Johansson Ramgren focused his research on.

"Previously, the standard procedure was to perform remedial operations when the children were completely newborn. Interventions were made that temporarily stopped the most acute problems while waiting for the child to be a few months older to be ready for the "real" operation", he says.
Flap surgery on the very young
With the centralization in 1993, the unit of paediatric heart surgery was concentrated to two centers in Sweden. Skåne University Hospital began to perform valve surgery directly, even on the smallest children, if clinically necessary.

"In my research I wanted to find out if we really made a difference for these children. Fortunately, we have been able to see that survival was the same. Both for the very smallest children we operated on, as well as those who were a few months old at the time of surgery."

304 children in total have been included in the study. Jens Johansson Ramgren and his research colleagues have, among other things, focused on the risk of these children not surviving the operation along with the first 30 days. The results show that 99 percent survived, which is the same result as for the slightly older children. The survival after 20 years is 95.1 percent, and these results are consistent as for those slightly older.