MRI-guided laser surgery – new help for brain tumour patients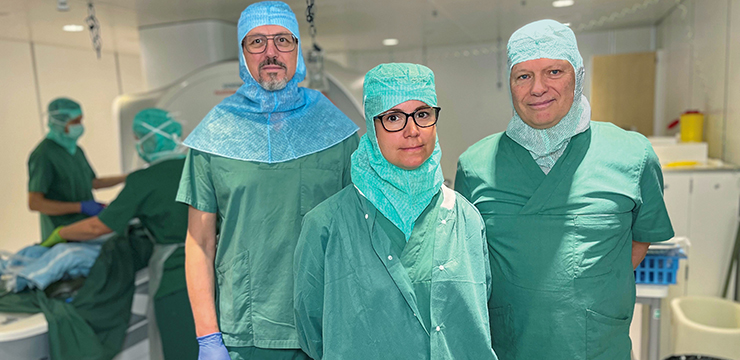 Consultant Hjalmar Bjartmarz, specialist Irena Grubor and consultant Peter Siesjö.
Doctors are now able to use laser surgery inside a magnetic resonance imaging scanner to treat patients with hard-to-reach brain tumours who previously could not be helped by healthcare services. The method is approved in the US and is now being tested for the first time in Europe, where three patients with brain tumours have successfully been treated at Skåne University Hospital as part of a clinical trial.
We have been planning for this technology for several years, and I am very pleased that we are now able to treat patients with hard-to-reach brain tumours. We were unable to do more for these patients previously because the risks with traditional surgery were too great," says Peter Siesjö, consultant neurosurgeon, professor at Lund University and principal investigator for the study.

The patients in the study all have glioblastoma, the most common and aggressive form of brain tumour.
Major benefits
"There are some major benefits with this technology. We can now treat patients that we were unable to help previously, and it is less aggressive, which means that the risk of infection and additional tissue damage is reduced and patients recover more quickly," says Peter Siesjö.

The method involves guiding a thin, laser fibre into the brain towards the tumour, which is then destroyed by heat. The remnants of the tumour disappear on their own with the help of the body's own scavenging system. The procedure is performed while patients lie in an MRI scanner so that doctors can monitor the procedure in real time through the whole procedure.
Minor intervention
"This method is safer for patients because we enter the brain through a very small hole. Then we can guide the laser fibre to the tumour and minimise damage to the surrounding tissue," explains Peter Siesjö.

Traditionally, patients with brain tumours are treated with open surgery. This means that surgeons need to make major interventions in the brain to reach the tumours, which are then cut away manually. But open surgery has not been an option for many patients with hard-to-reach tumours, because it involves far too many risks.

Another advantage is that staff do not have to transport the patient between the operating theatre and the X-ray department to check the position of the laser fibre.
Extra precision
Last year, Skåne University Hospital was the first in the country to operate on patients inside an MRI scanner consultant Hjalmar Bjartzmarz. Since then, doctors have performed several brain surgeries requiring extra precision. Among other things, electrodes have been inserted into the brain to interrupt various signals that cause tremors in patients suffering from essential tremor.
About MRI-guided laser surgery
A total of five patients will undergo laser surgery as part of the study, which will be completed within six months.
Around 60 to 80 patients undergo surgery for glioblastoma at Skåne University Hospital every year. In total, around 300 to 400 people undergo this surgery in Sweden.
The strength of the magnetic field is measured in tesla. Most scanners used in healthcare are 1.5T (tesla) scanners. The scanner used during this surgery is a 3.0T scanner.
The surgery at Skåne University Hospital is performed in the examination room where the large MRI scanner is located. That is why a sterile "tent" is built around the patient to mimic the conditions of a traditional operating theatre.
Some hospitals use a similar method using what is known as a hybrid room, where an MRI scanner is placed close to, or in, the room to monitor the procedure before and after surgery.